(Time to read this Blog article is about 1 minute)
When you're interviewing candidates for any position in your business or department, the truth is that the candidates are also interviewing you…especially the top performers.  They're good, they know they're good and they know that they have options.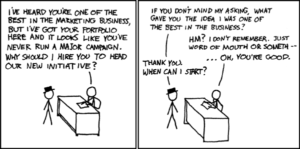 Below are five of the questions that are going through their minds.  Your interview conversation should help them answer each of these:    
 How will working with this company help me fulfill my life commitments and aspirations? 
 Do I believe in and trust the leadership and vision of the company?
 Will I be thanked, acknowledged and fairly treated?
Are there opportunities to grow my skills, my career, my resume and my income? 
Will I be excited and happy going to work every day?
If your business culture and career opportunities don't allow you to generate positive answers to these 5 questions, you'll have big trouble attracting, engaging and retaining top performers.