(Time to read this Blog is about 2 minutes)
Before we get to the main topic, here are a few things to get you thinking…or smiling:
My biz quote of the week:
"Choosing the comfort, simplicity and adrenaline rush of working 'IN' the business rather than embracing the challenge and complexity of working 'ON' the business is one of the most common and costly mistakes an owner or manager can make."
…Donald Cooper
Tree-planting drones. We hear lots of news about innovative uses for drones but this one is truly extraordinary.  New drones, developed in Australia, can each plant 100,000 tree seedlings a day. View this brief video on the right.
Cooper's effective 'straight talk' Biz Coaching at a safe distance. Want to sell more, manage smarter, grow your bottom line…and have a life?  Want help with partnership or family business challenges?  Need to deal with employees who just aren't performing?

These are just a few of the business issues that I'm currently helping clients solve. If you'd like to chat about 'possibilities', simply email me at donald@donaldcooper.com and list your top 4 most important business challenges. 
Now, to this week's important topic:
Are you sabotaging your Brand in any way?   
Your Brand is a promise to deliver a consistent set of qualities, values, standards and experiences that your target customers want in their lives.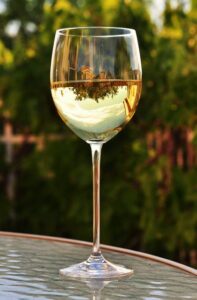 The Hunter Valley is one of Australia's finest wine regions.  Folks travel from far and wide to sample their high-quality vintages.  A few years ago, we travelled half way around the world to spend New Year's week there.
Right in the middle of one of the Hunter Valley's most beautiful vineyards is Peppers Boutique Hotel.  But wait, here's what their website said about their special 'Complete Indulgence Package'…
This special package includes: 
Accommodation for two guests.
Full cooked breakfast daily.
Pre-dinner beverage and canapés.
French sparkling wine on arrival.
So, you travel half way around the world to enjoy the Hunter Valley wine experience and what they're telling you is that their local wines really aren't that great, so for your 'Complete Indulgence Package' we're going to treat you to some really good French wine. 
This is Brand suicide!  How can businesses get it so wrong?  Every product or service we offer, every policy we create, every price we set, every action we take and every advertising message we put out there either honors and builds our brand…or it damages our brand.  Nothing leaves our brand untouched.
First off, do you have a clear Brand promise?  Does it 'grab' your target customers, clearly differentiate you from your competitors, make you 'famous'…and grow your bottom line?  Do you always support and deliver that promise, or do you sometimes send out the wrong message?
Take a good hard look at every part of your business.  What might be confusing or destroying your Brand?  What do you commit to do to fix what needs fixing?  And when will you start?
That's it for this week…
Stay safe…live brilliantly…and do at least 3 important or kind things each day!       
Donald Cooper 
Donald Cooper speaks and coaches internationally on management, marketing, and profitability.  He can be reached by email at donald@donaldcooper.com in Toronto, Canada.