(Time to read this Blog article is about 40 seconds)
Does everyone on your team know where the business is going, what you're doing to get there, what makes you special, what's working and what's not…and what you stand for?  If they don't,  they're most likely just showing up for a pay check.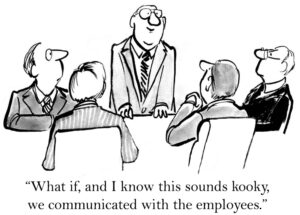 One of the best at employee communication is '1-800-GOT-Junk', one of Canada's sharpest companies.  At their Vancouver head office, every morning at 10:55 AM sharp, they 'huddle' for 7 minutes to communicate the following:
They start with good news (business and personal).
Next, they look at the numbers. (how we're doing).
'In the news'…an update from one department.
'Not-so-good-news'…what's not working.
'The energetic close'…they end with a cheer!
They started doing this in 1997 when they first opened and they still do it today….every day.   Regular and balanced communication is part of who they are.  Is that the way it is in your business?  What will you commit to do to improve communication and engagement in your business?  By when will you start?