(Time to read this Blog article is about 2 minutes)
A British driver has survived a major crash in his $325,000 Ferrari when it became airbourne and landed in a farmer's field just one hour after taking delivery of the brand new 'supercar'.
Driving a car like this is totally different from any car you've likely owned.  It's responsiveness and acceleration are off the charts and the skill and experience required to drive it needs to be learned.   Either the dealership failed to offer such 'coaching'…or the hopelessly arrogant purchaser refused to accept it.  Either way, it ended in disaster.
So, here's the business lesson for all of us. Whether you sell B2B or B2C, there's a huge opportunity to add value, build trusting relationships and clearly differentiate your business by being the 'caring coach'.  What information, help, skills, practice or assurance do your target customers need to carefully choose, wisely buy and more effectively use what you sell?   There are so many ways to deliver this coaching, from 1-on-1 interaction to informative packaging, a helpful website, check-lists, seminars, service calls, help-lines, on-demand videos, webinars and advertising.
What are your target customers confused about, concerned about or not yet able to do on their own? What information, help or simple acts of kindness will make you stand out? To get your creative juices flowing, here are a few examples of ways to become the 'caring coach':
1.  An easy and effective way to coach your target customers is to create a list of 'quick tips' that looks something like this:
7 questions to ask before choosing a renovator (or accountant, or web designer, stock broker, dentist, etc). Then, for each question they should ask, give them the answer that they should get.
10 helpful tips for buying the right photocopier for your business…or power drill, or car, or insurance policy.
5 things you can do to drive safer and improve tire wear (or reduce energy consumption, or the risk of a heart attack).
Chip Loughead of Gravenhurst Plumbing and Heating in Muskoka, Ontario, runs regular ads in his local paper titled "Chips Tips".  He doesn't advertise furnaces or hot water heaters.  Instead, he positions himself as the 'caring coach' by telling folks how to chose what's best for them and then how to maintain it for maximum performance and longevity.  Very clever.
2.  When my wife bought me a new digital camera, Sony got the business because they offer free in-store digital photography classes…and she knew I needed all the help I can get. Free coaching made the sale.  What after-sale coaching might your target customers need?
3.  Kraft Foods has developed a high-tech video kiosk to put in grocery stores that 'reads' the age and gender of the people standing in front of it and, based on that reading, the kiosk dispenses recipes and meal planning tips that are likely to be of interest to that specific demographic. 
4.  Progressive Direct Auto Insurance is committed to helping folks pick the lowest cost insurer for them.  So, when Progressive gives a quote, they also include quotes for the same type of insurance from two or three of their competitors.   A gutsy move?  Sure it is. But it has made them the third largest auto insurer in America.  What are you absolutely committed to…and how gutsy are you prepared to be in helping customers do what's best for them?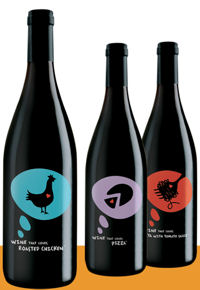 5.  The Amazing Food & Wine Company of San Francisco offers a selection of five popular priced wines in bottles that feature a picture of the foods that they are 'designed' to go with. This graphic 'coaching' is a real break with tradition, but it makes it easy for folks to choose an appropriate wine. How could you use simple graphics to coach your customers to make good choices? 
6.  A few years ago, I convinced our local butcher to ask customers if they want their roast to be rare, medium, or well done and then to write the weight, cooking temperature and cooking time right on the wrapper. He tells me that customers love it…and it's a personal touch that you won't get at the big supermarkets.
He also offers free kitchen knife sharpening on Mondays and Tuesdays, when he's not so busy. Most people don't know how to sharpen knives properly…and butchers do. This has increased sales considerably on both those days, and it got him written up in the local paper.  How might you coach customers to be more successful with what you sell and what simple acts of kindness could you offer that will build both relationships and sales?
7.  A Garden Centre could write a weekly gardening column for the local paper reminding folks about the hundreds of things that every gardener wants or needs to know throughout the season. When is it time to plant or prune, or fertilize, or deal with insects…and which product is best? As a gardener, I know that the list is endless…and I need reminders and product recommendations.
The same 'gardening tips' column can be posted on their website, sent out as a Blog to their database and printed out as a take-away 'Tip Sheet' at their Garden Center.  They could even become the gardening expert on their local radio or TV station appearing every few weeks to coach and take calls. That makes them the 'caring coach' and a celebrity…and that's marketing magic. 
8.  Being the 'caring coach' can also include warning folks about the shady practices in your industry, and promising that you'll never do those things. Become the Mother Theresa of your industry.  Be the voice of reason, integrity and truth.  You'll tick off the bad guys…but customers will love you.  
All your coaching tips and warnings should be included on your Website and in your sales literature.  And, they can be a part of your regular Customer E-Newsletters or Blogs.  You can also share this information by writing articles for your local paper or industry trade magazine. 
So, how could you become the 'caring coach' in your market?   How can you use tips, insider secrets, reminders, helpful hints or warnings to help your customers make wise choices and, in the process, position yourself as the honest and caring expert?  To get this important project started, what 'first steps' will be done, by whom, by when, measured how?