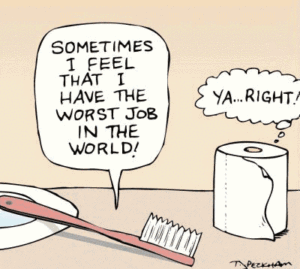 A few weeks ago I sat at breakfast with a 50ish senior manager of a large international company who asked me why I, a 65ish guy, speak at 80 Conferences a year, with all the work and travel that's involved …and the answer was easy. "I'm doing the most important work of my life, I'm making a difference…and I love it."
He told me that he could hardly wait to retire at 65 so that he can finally do something that he actually enjoys. How sad is that? He's going to hang on for another 14 or 15 years, disliking what he does, cheating both his employer and the people who report to him, being miserable…and destroying his soul.
If you don't love what you do, create a six month Plan to fix that. Are you in the wrong job; are you with the wrong company…or maybe in the wrong industry? Perhaps it isn't even your position, company or industry that's the problem. Perhaps "life balance" is the issue and if you could just address that, you'd be fine. So, first, determine what the real problem is, then create a Plan to fix it. Whatever it is, it won't fix itself. It's up to you.