(Time to read this Blog is about 2½ minutes)
Before we get to the main topic, here are a few things to get you thinking:
My biz quote of the week:
"If you're a business owner or manager, is your refusal to 'let go' crushing the dreams, passion and development of your next generation managers…and dooming the future of your business?"
…This quote was inspired by a comment from my friend Elaine Froese who expertly helps farm families plan generational transitions.  elainefroese.com
I have 2 Biz Coaching 'spaces' available for this Fall. If you'd like to receive our Info Sheet on how this 6-month 1-on-1 coaching program can help your business and your bottom line, email me at donald@donaldcooper.com.
Do loyalty programs work? 77% of Canadians say they're more likely to buy from businesses that have a good loyalty program.   The average Canadian is a member of 13 loyalty programs, but actively participate in only 7 of them.
On-line shopping returns. On average, 30% of online purchases are returned, compared to only 10% of purchases from 'brick & mortar' merchants.
Now, to this week's important topic:
The importance of world-class efficiency as wages increase:
Most of the business news I've read recently is about the challenge of attracting staff and how wages are increasing.  Wage increases for front-line workers have been supressed for many years, and they're fed up.
Before the Covid pandemic, 44% of American workers were making an average of $10.22 an hour (Canadian numbers are more difficult to find).  I challenge any business owner or manager to survive for a week on that kind of salary.  On top of that, very few of these low-wage workers are in jobs with any opportunity for promotion, let alone an actual career.  It has been a matter of 'start at the bottom…and stay there!'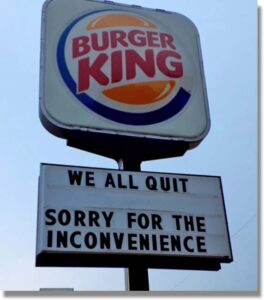 In addition, working conditions were often miserable.  Frito Lay workers in Kansas walked off the job last month to protest low pay and 84-hour work weeks.
When the air conditioning broke down at a Burger King in Nebraska and the temperature in the kitchen rose to 90 degrees, the franchise owner did nothing to fix it so the staff changed the letters on the franchise's roadside sign to read "We All Quit…Sorry For The Inconvenience" and walked off the job.
For the past 18 months the Government has paid a lot of people a lot of money to do nothing. So, now, here's your
reality for the foreseeable future; good people will be even harder to find and wages will be going up…a lot.  And this is the reason that you must focus, more than ever, on achieving world-class operational efficiency in every area of your business, including getting higher prices for your products or services.  Most people don't think of price increases as an efficiency improvement but getting paid more for delivering the same amount of product or service is definitely more 'efficient'.
When it comes to 'employee efficiency' in most cases, you're far better to have 10% or 15% fewer employees who are higher quality, more motivated and more productive…and paid 10% or 15% more.  Look for talent…not for 'bodies'.  Pay more and expect more…that's the secret.  'Pay more and expect less' will kill you!
Then, how will you improve your processes and systems, your clarity and communication, your equipment, software and training to work smarter?  How will you strengthen and improve your business culture, benefits and career opportunities to increase engagement and reduce staff turnover?  Staff turnover is inefficient and a huge expense!
How will you reward performance and how will you deal with non-performance?  What will you do to make it fun, rewarding and energizing to work on your team?  Remember, the best people have to work for someone…it's just that you have to deserve them.
Or, are you tired, burned out, cynical or disorganized so that you struggle to energize and organize your team?  If so, perhaps we should chat about 'possibilities'.
Maybe it's not just a matter of improving current processes. Maybe it's a matter of inventing entirely new processes that increase efficiency and give you a competitive edge.  Last week I wrote about a Chinese construction company that built a 57-story skyscraper in just 19 days by perfecting a process for creating modular components in an offsite location and installing them, on-site, at the rate of 3 storeys a day.  What's the 'next best' way of doing what you do and will you create 'the next'…or be the victim of what's next?
Lots to think about.  😊
That's it for this week…
Stay safe…live brilliantly!       
Donald Cooper 
Donald Cooper speaks and coaches internationally on management, marketing, and profitability.  He can be reached by email at donald@donaldcooper.com in Toronto, Canada.