(Time to read this Blog is about 3 minutes)
Before we get to the main topic, here are a few things to get you thinking or smiling:
My Biz Quote of the week:  
"Determining the future of our business and our bottom line is not a guessing game…it's a committing game.  In a 'guessing' scenario, we make a guess and then wait to see what happens.  In a 'committing' scenario, we make a reasoned commitment…and then we proactively do the work to make it happen."   
…Donald Cooper.
 
Quick Biz Tip:
How's your 'Bench Strength'?
 
In the glory days of the Montreal Canadien hockey club, when they won 11 Stanley Cups in 20 years, a key factor in their remarkable success was 'bench strength'.  Hockey is a tough game with a long season…just like business.  You need talent, and lots of it.
 
And yet a recent survey of 1000 USA companies showed that 72% of senior-level executives believe they don't have the 'bench strength' they need to grow the business.  WOW.
 
So, how's your bench strength? Have you identified your high-value, high-potential employees?   Are you paying them and hugging them enough?  And are you developing them, challenging them and rewarding them?  You can't grow your business without growing your people.
 
Deodorant sales are growing. As more workers return to the office and more people return to socializing after the pandemic, deodorant sales have increased 15% from Covid levels.
 
Cheapest days to fly. CheapAir.com reports that Tuesday and Wednesday are the cheapest days of the week to fly.  Friday and Sunday are typically the most expensive days to fly.
 
The unresolvable battle between car makers and the Auto Workers Unions. Fact:  It takes 40% fewer workers to produce an electric vehicle than a gasoline or diesel vehicle. 
 
As the world moves strongly to electric vehicles, the Unions demand guaranteed job security for their members.   How does that one get sorted out? 
 

Shameless Promotion:
 


If you or your Industry Association have a Conference coming up in the next 12 months, perhaps we should talk. As a thought-leader on management, marketing, staff engagement, value delivery and profitability, I deliver bottom-line business insights in a way that informs, energizes, engages, entertains and inspires. 

To quote one recent attendee, "Best, most real, insightful and entertaining management session I've attended in 30 years.  Bring this Cooper guy back!"  

Our most requested topics are:

"Accelerate Your Business…the 'straight goods' on how to sell more, manage smarter, grow your bottom line…and have a life."
"Winning the Talent Wars…8 essential steps to attracting, leading & engaging a top-performing team."
"Implement or Perish…how to improve clarity, commitment, urgency, accountability and profitability in your business."
"Vision Critical…how to manage, innovate and thrive in a very different tomorrow!"
"Succession Planning & Exit Strategies…preparing your business and yourself for the most important financial transaction of your life!"

I'm happy to chat about possibilities at 416-252-3703 in Toronto…or by email at donald@donaldcooper.com . 
Now, to this week's important topic:
The important difference between order-taking, selling and marketing:
'Order taking' is the process of taking someone's money for something they've already decided to buy.  Many so-called salespeople are actually just 'order takers'.  Selling is when customers end up buying more than they intended to.  Ethical selling is when that 'extra stuff' is a wise choice for them.  
When we called a heating and air conditioning contractor for a quote on installing air conditioning in our waterfront cottage, the salesman gave us a quote on what we wanted, but also noticed that our furnace humidifier needed replacing. Then he found that two controls for our air management system were incorrectly installed and offered a solution.  Finally, he told us about a new electronic air cleaner that would reduce dust and pollen, giving us a healthier place to live and reducing allergies. He sold us a much better outcome, increased his total sale by 18%…and turned us into 'fans'. 
How could you deliver better customer outcomes by coaching them on products or services that they're not even aware of?  How could you coach them on unseen possibilities?  That's selling.
So, exactly what is marketing?  Here's my simple definition of 'marketing' that may be helpful…
'Marketing' is anything you do to increase the demand for, or sales of, what you sell.
So, customer and competitive research are marketing.  Product design, quality, selection, availability, packaging, presentation and signage are all part of marketing.  How you look, sound and perform in every part of your business are essential parts of marketing.  Sales training, service, pricing, invoicing, your policies and guarantee, values and ethics are all part of marketing, as are your advertising and promotion, social media, blogging, website, and every communication you send out, in any way.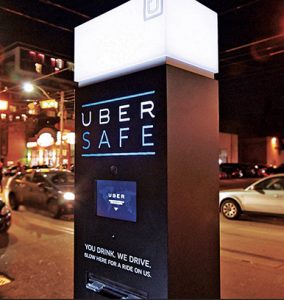 Here's an example of proactive marketing. Last St. Patrick's Day, Uber set up 'Drive Safe Breathalyzer Kiosks' in downtown Toronto. If you failed the test, you could then use the kiosk to order an Uber ride. This marketing 'stunt' generated 55 million media impressions, including over 500 articles world-wide. That's marketing. 
Here's the thing: everyone in your business should think of themselves as being an important part of your marketing team, even if they're not actually part of the Marketing Department.  
So, in your business, are you just order taking, or are you selling and proactively marketing?  
That's it for this week…
Live brilliantly!       
Donald Cooper 
Donald Cooper speaks and coaches internationally on management, marketing, and profitability.  He can be reached by email at donald@donaldcooper.com in Toronto, Canada.