(Time to read this Blog is less than 2 minutes)
Greetings fellow 'quarantiners'.  Hope you're still safe and sane as business starts to open up in many parts of the world. 
 1. The incredible power of joy
Whatever you sell, people come to you for that…plus joy. Especially in these stressful times. They want groceries…plus joy.  Accounting or legal services…plus joy.  Financial services …plus joy.  Auto parts…plus joy!  As goofy as it may sound, when you have so many competitors all selling about the same thing, at about the same price, 'joy' could be your sustainable competitive advantage. 
#1:  First off, joy begins with you. You are the source of joy and energy in your business, or your department.  If the lights are out on the front porch of your life, it's highly unlikely that you'll brighten the way for anyone else.  So, get with the program and up your 'joy factor'.
In the past few months we've all heard about regular folks doing extraordinary things to help,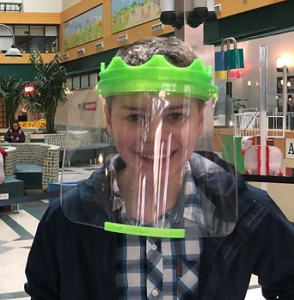 thank and encourage others during this Covid mess.  One example that I particularly like is 13-year-old Torontonian Warren Richmond-Kalaci who is using his home 3-D printer to produce hundreds of face shields for front-line hospital workers.  Many folks are doing cool stuff like this, but look at Warren's face masks.  The head-band is shaped like a crown.  This kid 'gets it'.  He has made wearing a face shield fun! He's using his joy, his quirkiness, his kindness and determination to make a difference.    
#2:  Next, hire joyful people. Bless you if you think you can take sad, small-hearted people and somehow transform them into
joyful team members. That happens in Disney movies, but rarely in real life. So, hire people who are joyful by nature, and create a culture that keeps them that way.
Sandra Wilson, founder and former owner of children's footwear manufacturer Robeez Footwear in British Columbia, used to tell prospective employees, "If you're not prepared to do the chicken dance, you can't work here."  In other words, she didn't want staff who couldn't or wouldn't be joyful. Each day at mid-morning, the Chicken Dance' music was cranked up and everyone did the chicken dance. It created joy, laughter and some energizing physical movement. By creating this culture of joy, Sandra reduced staff turnover by 50% while growing the business to the point where she sold it for over $30 million.
#3: Finally, create rituals of joy.  Encourage joyfulness. Create celebrations, rewards, events, contests and activities throughout the year that acknowledge, energize, uplift, engage and encourage.  Take a calendar and mark on it each day of the year that you could do something joyful for your customers, your team and yourself…and then do it!
In these difficult times we need joy more than ever. So, what will you do to make your business more joyful for your team, for your customers…and for yourself? 
2. Are you easy to contact?
There's an old saying, "Make it easy for your customers to buy."  But many of you are not doing that when it comes to contacting you through your website.  Under your 'Contact Us' tab do you have a phone number and email address for each of the people that a customer may want to contact…or do you have one of those annoying forms that folks have to fill out in the hope that someone from your company will eventually respond.  We hate those forms and most of us click out and look for another company with whom to do business.
Your business name, address, phone # and email address should be at the bottom of each page on your website.  Stop hiding and start building connections.
Bonus thought:  While you're checking your website, make sure the info on it is current.  I've just visited a client's website and under 'Events' they list two events from 2013, three from early 2014…and nothing since then.  The message here is clear. Nothing new and exciting has happened in this business for the past 6 years and they're dead from the ass up.  WOW, that's bad for business.
That's it for this week…
Stay calm…keep safe…and do at least 3 important or kind things each day!        
Donald Cooper