(Time to read this Blog is about 3 1/2 minutes)
Before we get to the main topic, here are a few things to get you thinking or smiling:
My Biz Quote of the week:
"Running a business properly is incredibly hard work.  But not running it properly is incredibly costly in lost revenue, missed opportunity and personal stress.  And, yet, proactively 'managing the business' is, at best, a low-priority, part-time activity for many business owners who find it more comfortable to put out day-to-day fires."
…Donald Cooper.
 
Quick Biz Tip:
Cooper's 2-step process for attracting & keeping a top-performing team!
 
The biggest complaint from business owners and managers around the world is that, "We just can't get good people anymore!"  But here's the truth. The best people have to work for somebody…it's just that you have to deserve them.  So, here are the 2 simple steps to make you the employer of choice for the best people in your industry. Each step will take about 20 minutes.
 
Step #1:  On one piece of paper, describe the type of business, in your industry, that the best people would want to work for.  How would it recruit, hire, onboard, compensate, train, coach, encourage, communicate with, promote, thank, reward and celebrate its employees?  What kind of benefits, perks and workplace flexibility would it offer?  How would it deal with toxic employees or non-performance? 
 
Step #2:  On another piece of paper, make a list of all the things you have to do to become the kind of business that you just described in Step #1. 
 
That's it…2 Steps…40 minutes.  When will you get started?
 
How Canada ranks in medical care:
Canada ranks 28th out of 30 comparable countries in number of doctors per capita.
Canada ranks 26th out of 30 comparable countries in number of MRI machines per capita.
 
If you or your Industry Association have a Conference this Fall, perhaps we should talk. As a thought-leader on management, marketing, staff engagement and profitability, I can bring real bottom-line value to your next Conference.  Our most requested topics are:

"Accelerate Your Business…the 'straight goods' on how to sell more, manage smarter, grow your bottom line…and have a life."
"Winning the Talent Wars…8 essential steps to attracting, developing, leading & engaging a top-performing team."
"Vision Critical…how to manage, innovate and thrive in a very different tomorrow!"
"Succession Planning & Exit Strategies…preparing your business and yourself for the most important financial transaction of your life!
To quote one recent attendee, "This was the most insightful, truthful, helpful and entertaining management session I've attended in my 30 years in business!"
Most clients have me deliver 2 sessions, or one extended 'Super Session' at their event, which makes me very cost-effective in both speaking fee and travel cost, as I take the place of 2 speakers.
All attendees receive free access to my complete set of copyrighted 'Business Assessment & Management Implementation Tools'.  These tools & templates have helped 1,000s of clients focus on where their business is now, where it needs to be…and specifically how they'll get 'from here to there'.  This is huge take-away value! 
While not 'on stage' I deliver a series of 20 minute 1-on-1 mini Business Coaching Sessions that are always a huge hit with attendees.  They love the individual attention!  It's my belief and experience that some of the most important value is delivered 'off the platform' in these quiet and confidential 1-on-1 conversations.
If you'd like to chat about 'possibilities', I'm easy to reach at donad@donaldcooper.com.
Now, to this week's important topic:
What or who do you need to 'let go of' to make 2023 year your best year ever? 
A few years ago, I did some work with a large trucking company that now leads its industry in customer satisfaction, management smarts and profitability.  But it wasn't always that way.
Several years ago, they were doing $95 million in sales and losing $12 million.  That's not an easy thing to do.   You have to work overtime to lose $12 million on sales of $95 million.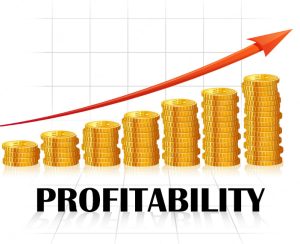 So, how did they turn the business around?  How did they go from 'bleeder' to 'leader?  First, they developed clarity about who they were and what they could do well and profitability.  Then they analyzed every customer for sales volume, profitability and potential.  What they found was that many of their customers were hugely unprofitable …and they politely 'fired' them.  Over time, they replaced those unprofitable customers with profitable, growing accounts.
At the same time, they analyzed which routes and services were profitable, and which were not.  They immediately dropped anything that was losing money that couldn't be
turned around.  Next, they consolidated and streamlined their terminals across the country to create world-class operating efficiency, reduce overhead and improve customer service.
Finally, they hired the best people in the industry at every level of their organization and invited poor performers to 'move on'.  In short, they had the wisdom and courage to 'lose' the customers, the products and services, the physical facilities and the people who were not making them money.  They did all of that with dignity and class…but they did it!  And now they're four times the size with a bottom line to be proud of.
Managing any business or department sometimes calls for making tough decisions.  Some of the toughest are about what and who to 'let go of'. So, what and who do you need to 'let go of' to make 2023 your best year ever?   The list could include…
Products or services that are out-of-date, losing you money or hurting your brand.  Fix them, or pitch them.
Customers that are not making you money, taking too much of your time, or are disrupting your business.
Suppliers who keep letting you down, making you look bad to your customers or hurting your operational efficiency.  Give them a maximum of 3 months to get their act together and, if they don't, find another supplier.
Branches or locations that no longer make sense…or never did. Shut them down.  Just make sure you treat the staff who work there honestly, respectfully and fairly.
Employees who are toxic or non-productive.  If you can't 'fix' them, invite them to make an alternate career decision.  Not everyone is rescuable.
Policies that make you look uncaring or unreasonable, or that tick good customers off and drive them away.
Negative attitudes or incorrect assumptions about people, places or things that may be closing your mind, hardening your heart and hurting your business. Is your business being held back by negative attitudes about yourself?  Do you have the courage to ask what you're worth or are you sabotaging your bottom line by under-charging, or endless discounting?  Sometimes the thing we most need to lose in our business is our own reluctance to charge enough for what we sell.
 
In both your business and your personal life, nobody will ever think you're worth more than you do.  Funny how that works.
Maybe you need to let go of your entire business model. Perhaps you need to rethink what you do, for whom you do it, where you do it or how you do it.  If your business model is fundamentally out-of-date or no longer profitable, fine-tuning and fiddling it won't solve the problem.  It needs a total rethink.
So, what do you need to 'let go of' in your business and your life to make 2023 your best year ever?   What are the tough but necessary decisions that you've been putting off?  What needs to be done, who will do it, by when and measured how? 
For more help in proactively planning for 2023 and beyond, our transformational 40-page 'Vision Critical Guide' provides the insights, tools and templates to create clarity about the future of your business.  This transformational 'Guide' is available as a PDF download for just $24 at donaldcooper.com.
That's it for this week…
Stay safe…live brilliantly!       
Donald Cooper 
Donald Cooper speaks and coaches internationally on management, marketing, and profitability.  He can be reached by email at donald@donaldcooper.com in Toronto, Canada.